Thursday, December 16th, 2010
---
11:46 am
- As we stumble along into the blue
I'm very pleased to announce that Lorinne Lampert will be playing the role of The Drowsy Chaperone in...The Drowsy Chaperone! Opens January 29th at The Gallery Players!




This is a role originated on Broadway by Beth Leavel (who went on to win a Tony Award and a Drama Desk Award for her performance). In Toronto (prior to Broadway), the role was played by one of the show's (multiple award-winning) writers, Lisa Lambert. Fun fact: Geoffrey Rush played Man in Chair in the original Australian production!
Friday, July 9th, 2010
---
11:09 am
- Uke-Lola
Hello! This video is from a performance I did for an Independence Day show at the Coney Island Museum. I had a grand old time. Happy July everyone!



Tuesday, February 2nd, 2010
---
3:20 pm
- Bindlestiff Family Cirkus Debut and Wonderful Review!
Hello friends! Last night I performed at the Bindlestiff Family Cirkus Variety Show. Here are two pics (click through for flickr page):




Trav S.D., theater and vaudeville authority and scenester says: "The dynamo of the evening was Lorinne Lampert, who debuted her long-promised turn and knocked this correspondent's socks off. Now I know why it took her so long. She has been working on it. I'm sorry, everybody else, this is how it's done. A whirlwind of energy, she takes the stage in character and costume, radiates a funny persona that's like a distilled version of her real life personality (with some Betty Hutton thrown in), sings standards like the stage veteran she is (but with more humor, personality and flair than most any musical theatre performer I've encountered), tap dances and plays the uke (both in turn, and then at the same time — that's her Wow finish). [...] ...she's my idea of a vaudevillian. Look for more of her onstage, because if I don't have the good luck to present her, I intend to steal every one of her moves (except the blue teddy). It'll probably give me a heart attack."


Tuesday, September 29th, 2009
---
10:17 am
- Outer-borough bums, Brooklyn born and bred...here they are, ladies and gentlemen!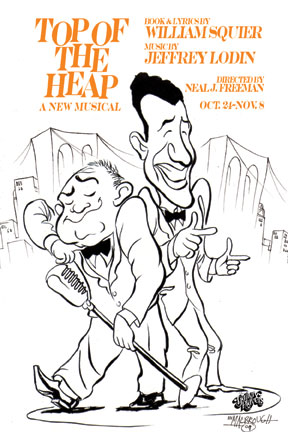 I'm so very pleased to announce that I will be appearing in this jazzy, smart, darkly comic new musical at Gallery Players this fall.

Top of the Heap


October 24 – November 8th, 2009 – Limited engagement!

Music by Jeffrey Lodin
Book and Lyrics by William Squier

Producer: Heather Siobhan Curran/The Gallery Players
Director: Neal J. Freeman
Music Director: Lilli Wosk
Choreographer: Katharine Pettit
Set Designer: Ann Bartek
Associate Set Designer/Props Master: Elyse Handelman
Costume Designer: Megan Q. Dudley
Assistant Costume Designer: Tracy Klein
Lighting Designer: Tsubasa Kamei
Video Designer/Supervisor: Nicholas Meyer
Production Stage Manager: Caitlin Orr
Assistant Stage Manager: Janice Acevedo
Assistant Director: Allison Bressi
The Cast
Ronny Mauro – Kenny Wade Marshall*
Gil Webster – David Perlman*
Elsa Orwell – Anette Michelle Sanders*
Meryl Dean – Hollis Scarborough*
Coochie Kovack – Lorinne Lampert*
Edgar Callahan – James Andrew Walsh*
Harmon Laybourne – Greg Horton*
Sidney – Ray Bendana*
Joey/Ensemble – Roy Flores
Phyllis/Ensemble – Tina Marie Casamento*
Ensemble – Josh Bates, Ronn Burton, John Cardenas, Kristin Farrell*, Carolyn Hartvigsen, Natasha Soto-Albors*
*appearing courtesy of Actors' Equity Association

I'm positively thrilled!
(
Here's the pitch!
Collapse
)
current mood:
excited
Tuesday, July 21st, 2009
---
11:23 pm
- Get an eyeful of this!
I'm hyper-excited to announce that I will be appearing this August in:

Far Out - the New Sci-Fi Musical Comedy!




Five performances only:
Saturday August 22 at 7:30 pm
Wednesday August 26 at 8 pm
Thursday August 27 at 4:15 pm
Saturday August 29 at 5 pm
Sunday August 30 at 2:45 pm

All performances will be performed at the beautiful Minetta Lane Theater
18 Minetta Lane (between 6th Avenue and MacDougal Street).

Our cast is amazing.

The show is awesome.

It's positively outta sight!


current mood:
ecstatic
Thursday, February 5th, 2009
---
12:29 am
Monday, January 26th, 2009
---
3:06 pm
- Thoroughly Modern Millie opens this Saturday!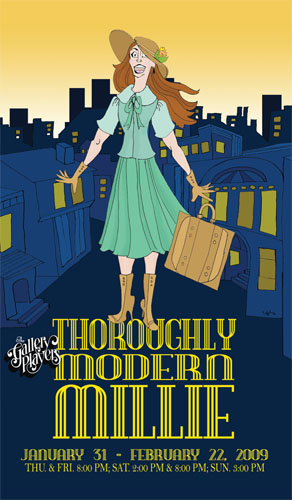 Book by Richard Morris and Dick Scanlan
New Music by Jeanine Tesori
New Lyrics by Dick Scanlan

Producer: Brian Michael Flanagan/The Gallery Players
Director: Neal J. Freeman
Associate Producer: Amanda White
Music Director: David Fletcher
Assistant Music Director: Lilli Wosk
Choreographer: Katie Pettit
Set Design: Ann Bartek
Costume Design: Megan Q. Dudley
Lighting Design: Ryan Bauer
PSM: Emily Rea
ASMs: DaVonne Bacchus, Becca Oursler
Illustration by Hunter Kaczorowski
Cast:
Millie Dillmount - Alison Luff
Miss Dorothy Brown - Amy Grass*
Jimmy Smith - David Rossetti*
Trevor Graydon - Andy Planck*
Mrs. Meers - Justine Campbell-Elliott
Ching Ho - Roy Flores
Bun Foo - Jay Paranada
Muzzy van Hossmere - Debra Thais Evans
Alice – Megan Kane
Gloria – Lorinne Lampert*
Ruth – Jill Sesso
Miss Flannery – Katie Kester
Male ensemble: Ryan Finley, George Papas, Drew Pournelle, Frank Sansone
Female ensemble: Rebecca Dealy, Kristin Donnelly, Angelyn Faust, Lauren Kay

*appears courtesy Actors' Equity Association

The Band: David Fletcher (drums, keyboards), Lilli Wosk (piano), Brittany Anjou (keyboards), John Kramer (trumpet), Rose Imperato (clarinet, sax), Jessica Egan (flute), Haran Barak (banjo/guitar), Dennis Michael Keefe (acoustic bass).

(Click image above to go to the Gallery Players' website.)

I'd love to see you there!




current mood: thorough
Monday, December 1st, 2008
---
4:42 pm
- Home for the Holidays with Granny Tuckaberry
Please come check out our stupendously fun family cabaret show, "Home for the Holidays with Granny Tuckaberry".

Join grinchy Granny and the spirited Tuckaberries for an evening of jingle-belling, dreidel-spinning, and figgy pudding!

Friday, December 12 and 19 at 7:00 pm and Saturdays, December 13 and 20 at 7:00 pm.

All performances are at ART/NY's South Oxford space, 138 South Oxford Street, Brooklyn. www.tuckaberry.com

And in honor of this show being my first foray into juggling onstage, a short video:


current mood:
optimistic
Tuesday, July 22nd, 2008
---
1:45 pm
- IJA Festival
I attended my first International Jugglers' Association Festival last week. I suppose it was my second juggling festival - the first was the smaller (but still awesome) Juggle This! in Brooklyn in March. Access photoset through this portal (I assure you, I won't have any more photosets for a while after this, *chuckle*):




Most of my IJA commentary accompanies the photos over on flickr, but I do want to say that one of the highlights of the trip was learning about Causal Diagrams, a notation system Martin Frost developed around twenty years ago to depict club passing patterns. Here's a simple example (4-count):





Cool, huh?

current mood:
enthralled
Sunday, July 20th, 2008
---
12:40 pm
- Proof!
When I started juggling in January (I believe my first day of learning three-ball-cascade was January 26), I said I wanted to be passing clubs by July. It was an ambitious statement. I'm not sure I believed it was possible at the time. Part of me thought I was willing myself into believing I could do it. And y'know what?

It is possible! I can't wait to keep practicing. Here's a nine-second (always leave 'em wanting more!) clip of me passing clubs with
neilfred and
rubrick last Thursday at the IJA festival (this video is also on YouTube, but flickr automatically sets the resolution at a higher quality).

current mood:
pleased
Tuesday, July 15th, 2008
---
10:02 pm
Hi, everyone! This is my "there will be NPL photos soon (this weekend, probably) and some (or a lot) of musings about Conorado which was PHENOMENAL but I'm currently in Lexington, Kentucky at the International Jugglers' Association Festival and I learned to pass clubs yesterday, WOOHOO!!!" post.

current mood: excited and exhausted
Friday, February 29th, 2008
---
2:20 pm
- I'm off to the ACPT!
I'm leaving for the Marriott shortly. May I say, I am totally excited, and every bit as giddy as last year (my first time in attendance/competing). I use the word "competing" here lightly - I'm hoping to beat my personal placement, percentage-wise, but I haven't been in intensive crossword training lately.

I have, however (sandwiched between small bites of the very entertaining book "No Applause - Just Throw Money: The Book That Made Vaudeville Famous") been enjoying Amy Reynaldo's book and Peter Gordon's Hall of Fame Crosswords.

I'm so excited to see a bunch of you...in just an hour or so! Much luck to everyone. A special shout-out and virtual rabbit's foot (or charm of your choice) goes to the one whose nom rhymes with Munch Toy.

current mood:
happy
Monday, February 18th, 2008
---
2:34 pm
My arms are hopelessly bruised, yet happily so, from my first several days of trying to learn how to juggle clubs.


current mood:
sore, but pleased
Monday, January 21st, 2008
---
4:27 pm
- Evil I did dwell, lewd did I live.
Congratulations to Palindrome, MIT Mystery Hunt 2008's constructing team (and last year's winners). Your hunt was lots of fun, and my first, so you hold a special place in my heart. Naturally.

Lorinne likes to take photos and have photos taken (that's not a palindrome, but anyone wanna attempt one along those lines? My nom totally lends itself to bookending one).

Go Midnight Bombers!!! Click through for my flickr photoset (rather Evil, she chuckled amiably):




More writings to come. BOOM!

current mood:
ecstatic
Monday, January 14th, 2008
---
12:58 pm
- Someone bought a new camera...
I purchased a Canon SD850 (chosen based on recommendations and suggestions from friends, plus online chatter) a few weeks ago, and it was a perfect time for such an acquisition, since I happen to have a few new craft projects to show off! Feel the new camera love.

Click through to see the shots on Flickr.


current mood:
bouncy
Saturday, December 29th, 2007
---
11:47 pm
- Knott's Nostalgia
I suppose there are only a few folks on my flist (though, to be fair, who knows?) who remember the place, but I just discovered (several years late) this sad news:

They removed the Haunted Shack attraction (originally built in 1954) from Knott's Berry Farm in 2000. I discovered this tragic happening while reading the Wikipedia page on Knott's Berry Farm, which was up because of a conversation
lunchboy and I were having about theme park mascots (Knott's has used Peanuts characters since the early 1980's). Then I discovered that the exciting and weird Wacky Soap Box Racers were also gone (and I hadn't realized that they, so retro-seeming at the time, were themselves a replacement for the earlier Motorcycle Chase ride, 1976)!

There was a time when
holdyourbatboy and I would discuss rollercoasters a lot, and Disneyland, Six Flags Magic Mountain, and Knott's were very important places. Anything "Haunted" was of great importance to me - which brings me to another subject: the fact that they re-theme Disneyland's Haunted Mansion every Christmas. And to that I say, with true holiday (wait for it...) spirit (groan): "Oy."

current mood:
thoughtful
Monday, December 17th, 2007
---
12:37 pm
- Take pains. Be perfect. Adieu!
A Midsummer Night's Dream closed on Saturday night. Thanks to all who came!

Here's our esteemed cast after the final performance:




To show our simple skill, that is the true beginning of our end.

current mood:
thoughtful
Wednesday, November 21st, 2007
---
11:31 am
- Happy Thanksgiving, everyone!
I'm a busy busy bee right now (and yes, I know you're very sensitive to bees). *grin*

Would you like to come see Lorinne Lampert perform/sing/dance/wear funny and/or pretty costumes/manipulate puppets/ham it up?

Of course you would. Would you like to see her do that in a theater setting? "Yes", again, is your inevitable answer.

First up: Thursday, November 29: A Flanders and Swann House Party (our second reading of the show, this time at the York Theatre). It's absolutely charming and the puppets (there are new ones since the August show, too) are stunningly cool.

Next: Opening Thursday, December 6 and running through Saturday, December 15: A Midsummer Night's Dream (9 performances). I'm so, so proud to be a part of this. It's Tuckaberry's biggest production yet, and is brimming with entertaining performances and fabulous creative energy from our director and designers.




For the holidays: A Very Tuckaberry Christmas (first engagement on Saturday December 16, then at the Impact Theater from Thursday December 20 through Saturday, December 22). Come spend an evening with the Tuckaberries and festive silliness, pretty holiday harmony, and...more puppets.

Have a wonderful weekend, everyone! I hope you can attend one or all of these fun shows. If you're out of town, well...I'll keep you in the loop. *smiles*

current mood:
productive
Tuesday, October 30th, 2007
---
4:40 pm
- Masters, spread yourselves!
Hi everyone!

I'm very excited to announce that I will be appearing in Tuckaberry Productions' winter presentation:

A Midsummer Night's Dream!

First read-through was last night. It's a wonderful cast, and the show is sure to an absolute blast to be in and to see. I'm playing Petra Quince (Peter Quince), the well-intentioned but rather inept director of "Pyramus and Thisbe", as well as Peaseblossom the fairy.

I'm also excited to applaud my friend Aaron Zook - he has his photo in the New York Times today in the review of his current show, "Twelfth Night of the Living Dead". I'm planning to see it tomorrow.

As far as Halloween, well, I was extremely pleased with my costume. Amusingly, it so happens that

miriam1978 (independently) came up with the same costume idea this year. We're hoping to get pictures together tomorrow...:-).

current mood: smiling
Monday, October 8th, 2007
---
1:19 am
- Now we're gonna shuffle, shuffle off to [insert city here]
The event was beautiful.
dametuckaberry did a splendid job of putting it together, and
znufrii made a charming emcee. Although we wish we could've seen more of you there, you can still have a taste! Here's a link to my Flickr photos of the fun event:




current mood: proud